With over 6 million inhabitants, Hyderabad, the capital of Telangana and Andhra Pradesh, is the 4th most populous city in India. This fast-growing city is one of the biggest IT hubs in the country, with an infrastructure that is arguably better than its close neighbour, Bangalore.
Over the years, Hyderabad has also become a world-class destination for education, being home to some of the best schools, colleges and universities in the entire southern region. In fact, many young families in the surrounding areas move to the city due to this very reason. Jere's a look at the 10 best international schools in the city.  
Oakridge Newton International School
Located in Gachibowli and spread over 5.11 acres, Oakridge Newton International School is among the best schools following the International Baccalaureate (IB) curriculum in India. The school aims at preparing students for both domestic and international competitive exams through quality education, on par with international standards.
The school offers a host of indoor and outdoor facilities to promote all-round development of its students. It also engages in Ted Talks, MUN and financial intelligence classes, along with summer camps hosted by professors from IVY league colleges.
Facilities
Multi-facility digital classrooms
Hi-tech, state-of-the-art laboratories
A well-stocked library
Basketball & tennis courts, cricket & football grounds, skating rink, athletic games field, children's recreation park
Swimming pool & gymnasium
Spacious auditorium, activity rooms and a multi-purpose antechamber
Infirmary, fitness centre and clinical psychology unit
Dining hall & kitchen
Chirec International School
Chirec International School in Kondapur is spread over a sprawling 5-acre campus and has been around for over 3 decades now. The school was ranked as the best international day school in Hyderabad & Telangana by Education World in 2018. The curriculums offered by the school include IB, Cambridge Assessment International Education (CAIE) and CBSE.
The school runs a variety of innovative programs on robotics, engineering, coding and more, while offering opportunities for corporate and science research internships. With more than 280 solar panels across the campus, this is also an eco-friendly institution.
Facilities
Well-lit, spacious and state-of-the-art classrooms
Large and well-equipped laboratories
Well-stocked library
Open-air auditorium & multi-purpose halls
Basketball, lawn-tennis, volleyball and handball courts, athletic tracks, cricket pitch
Skating rink
Table-tennis and chess rooms
Dining area
GPS-tracking-enabled buses for conveyance
The Aga Khan Academy
The Aga Khan Academy in Hyderabad is the second in a network of 18 planned residential schools in 14 countries across Asia, Africa and the Middle East. Built on a 100-acre site, off the Rajiv Gandhi International Airport road, it is ranked among the best schools in the state.
The school follows an IB curriculum, which is a multi-disciplinary program, aimed at fostering intellectual curiosity and social consciousness. Students at this school are heavily encouraged to develop creativity and leadership skills.
Facilities
Spacious, hi-tech classrooms that are age and subject specific
Well-equipped computer and science laboratories
State-of-the-art library and resource centres
Music, dance and fine-arts rooms with individual practice booths
Swimming and diving pools
Football, hockey and athletics fields, cricket pitch, lawn tennis and squash courts
Athletics centre for aerobics and fitness
Separate residential buildings for girls and boys
Health Centre with 12 beds
Rockwell International School
Affiliated to both CAIE and CBSE, Rockwell International School has a self-learning and practical approach towards teaching and education. Located in the heart of the city, this day cum residential school was started in 2009 and is counted among the best schools in the city. The school offers a wide range of co-curricular and sports activities to enhance the learning experience and promote all-round development in students.
Facilities
Wi-Fi facility all over the campus
Large and airy classrooms equipped with smart boards, LCD monitors and multimedia desktops
Digitally enabled library
Well-equipped science and computer labs
Separate sections for music, dance, fine arts and performing and dramatic arts
Playgrounds, courts and rooms for indoor sports spread across 3 acres
Kitchen and dining hall
GPS-enabled buses for conveyance
Silver Oaks
Established in 2002, Silver Oaks is spread over 4 acres in Miyapur, Bachupally, and has had an amazing track record. Having been an IB school for over 10 years now, it has 180 trained International Baccalaureate teachers as well as a research centre for developing its pedagogy. The school also has 40 certified career counsellors on its payroll, ensuring that students get the best help in making decisions about their career and future.
Facilities
Tech-friendly classrooms
Spacious multi-purpose rooms and conference halls
Well-equipped laboratories, computer centres and libraries
Swimming pool
Basketball & lawn tennis courts, cricket pitch, skating rink
Edu Sports
Dance, art & craft and music (Vocal & Keyboard)
Oak street choir
NCC training
Global Indian International School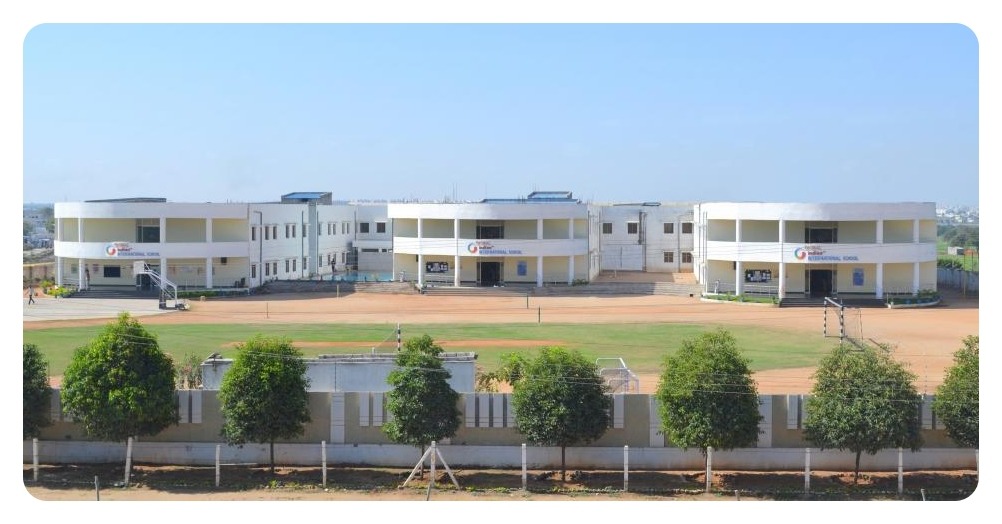 Global Indian International School (GIIS), situated near Uppal, has a beautiful, landscaped 6-acre campus and is right up there with the best schools in the city. Being located in peaceful and pollution-free surroundings, it is able to provide the ideal environment for students to foster creativity and prepare themselves for the life ahead.
Facilities
Wi-Fi enabled digital classrooms
Well equipped science laboratories
Dedicated laboratories for computers, languages and mathematics
Auditorium
Activity rooms and yoga studio
AV room
Cafeteria
Swimming pool, playgrounds and skating rink
200 meters athletics track
NCC training
Conference hall for meetings
Indus International
Established in 2008, Indus International in the Mokila village of Shankarpally has been listed among the 10 best international day cum boarding schools in India for 2018-2019 by Education World magazine. The school follows the IB and CAIE curricula and strongly encourages students to explore their potential through sports, music, arts and dance, in order to nurture them beyond mere text books.
The Indus Leadership Curriculum is the first of its kind and includes subjects like biotechnology, ecology internet, graphics and entrepreneurship as well as community-based programs to inculcate important social values.
Facilities
Hi-tech classrooms equipped with smart boards, LCD monitors and desktops
Boarding facilities
Sports ground
Indoor stadium
Swimming pool
Horse riding arena.
Wi-Fi connectivity all over the campus
Dance studios
Music and art rooms
Open amphitheatre
Kennedy High – The Global School
Kennedy High follows both CAIE and CBSE curricula and aims at preparing its students for college entrance exams, such as NEET, JEE and AIEEE. Students are given extensive coaching for these competitive examinations from Grade 6 onwards. This large, 5-acre school campus is located in Miyapur and has been around since 2005. CAIE is an internationally recognized and well thought out curriculum that focuses on the holistic development of students.
Facilities
Smart, digitized classrooms equipped with interactive boards
Science and computer laboratories
Animation studio
Soft skills and personality development lab, ICT lab, AV lab
Activity rooms for music, art and dance
Auditoriums and seminar halls
Swimming pools
Basketball courts, playground, skating rink
Infirmary
CCTV surveillance
International School of Hyderabad
Founded in 1981, International School of Hyderabad (ISH) has been offering the IB diploma since 2007, becoming the first school to do so in Telangana. Students at this school follow three different curricula from Grade 1 through 12 – the Common Ground Curriculum (CGC) till Grade 8, CAIE during Grades 9 & 10 and IB for Grades 11 & 12.
ISH is focussed on academics, with regular assessments being part of the learning process. However, it also promotes a variety of co-curricular activities to ensure that students are nurtured in all aspects of life.
Facilities
Science laboratories
Music, art and language rooms
Well-stocked library
Multiple outdoor areas for exercise and learning
Access to the 3,600-acre ICRISAT campus which includes science labs, a museum, a weather station, a medieval fort, tennis courts, a swimming pool and facility for cross country running and cycling.
Cricket pitch, football fields, outdoor covered sports area (for basketball and other sports)
Multipurpose air-cooled gym (with basketball, badminton, volleyball courts)
Foreign languages programme
Johnson Grammar School
Founded in 1979, Johnson Grammar School follows the CISCE curriculum for classes from nursery to Class 12 and is ranked among the top CISCE schools in the country by Education Today. In 2008, this progressive school received authorization from the International Baccalaureate (IB) Organization in Geneva to offer the IB diploma programme for Classes 11 & 12.
Facilities
Spacious and well-planned digital classrooms
Indoor and outdoor sports areas
Studios for music, dance and art
Amphitheatre
Day care facilities for children of working parents.
Optional lunch facility
Optional transport facility
If you are looking for some of the best schools in the country that will help your child with all-round development and a strong foundation in academics, look no further than Hyderabad.
Do you have more suggestions based on your experience? Feel free to suggest in comments below.